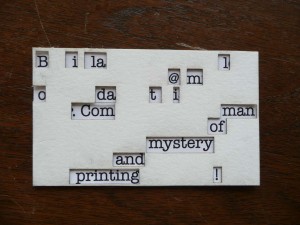 By using a a QR code as an encoder and decoder we can have a secret message card that can be translated using digital decoders and analog ones as well!
Having a good business card can help you maintain contacts, promote yourself and your business, and make friends. By creating a personal business card that involves the recipient actively folding, manipulating and translating your card will make them more likely to remember you and share your card.
Thinking back to the old school decoder rings and my fascination with secret messages I thought I could make an interesting business card that could not only tell a story, but give useful information on how to contact me. I did this first using just a block out grid stencil, and secondly with a QR code acting as the grid. I posted the project on instructables, you can check it out there, view the embedded version, or download the PDF below.
A decoder business card project I just posted to instructables.

Decoder Buisness Card – QR Coded Secret Message